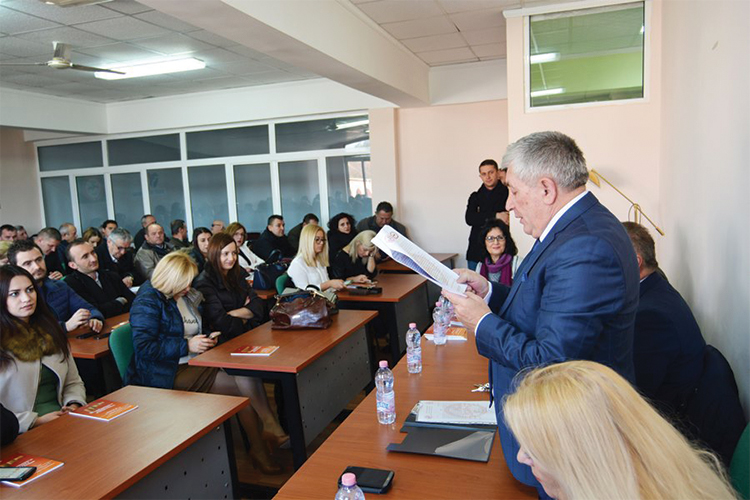 On 22.12.2016, TUFIWA leaded by General Secretary Mr. Taf Koleci, presented the annual report of 2016's. Mr. Taf Koleci, first of all reported in front of dozens of  TUFIWA Leaders and members of the Federation, the achievements,projects and thee difficulties that TUFIWA has passed during the year. He stressed the good work of the unionists that are on the top of the trade union sections in different companies, that TUFIWA has Collective bargains. The General Secretary of TUFIWA presented, documented achievements of the federation that he leads, where first of all need to stress
The realization of " oilman Status"
The solution of all the requests and the restarting  work of refining plant in Ballsh, which had the full support from TUFIWA.
The historical pay rise on September of 2016, to all the employees of OSHEE Company, where it is ranged from 37% up to 150%.
Also has been presented to the participants the projects that are underway. Moreover Mr. Koleci stressed some problematic stuffs that need to be resolved along the 2017's, and to work with all the possibility ways and the union's force to support all the employees.
In the end have been presented the trade union goals that are as follow:
To defend all the employees of every section where we have Collective Bargains,
The collaboration with every international organization that we are affiliated, in that way rising our awareness to be affiliated to other organizations such as ETUC and ILO.
To enhance the number of the members in all union sectors increasing the  level of the responsibility and protection to all our members.