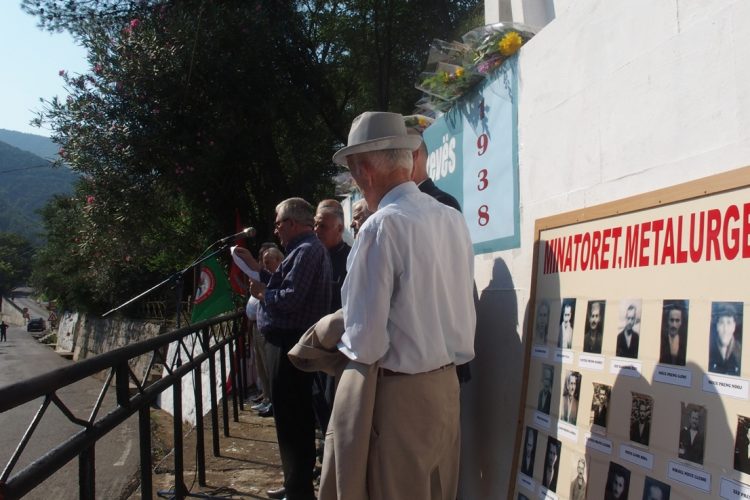 Dear friends, participants,
On August 8, 2018, the 80 th anniversary of Rubik's Legends strike was commemorated. At this event so important for the trade union movement in Albania, participated the Secretary General of FSPISH, Taf Koleci. Also in this event was Deputy Minister of Infrastructure and Energy, Mr. Enis Aliko and of course the Head of Mirdita County. Now, this date has become a very significant date for all Albanian trade unionists. After the commemorative ceremony, a concert was held for the attendees who took part.
Below you will find the full speech of the Secretary General of FSPISH at the commemorative ceremony.
8 August 2018 Taf Koleci – Rubik
The speech for 80 anniversary of Rubik Strike
Today we are gathered here to remind Greven of the Rubik Miners 80 years ago, a strike that reminds us of the "working breed" of Rubik's galleries, which we fearlessly consider today as the "first nursery" of working class in Albania.
We recall the years 38, when Zog government gave the mine for use to an Italian company, where it is worth pointing out that all the mining work processes came by the wing, so there is no mechanism. At that time, mining exploitation became more difficult. Precisely because of these measurable conditions, very low salaries, where they received only 5 lek per day, and many other dissatisfactions related to their treatment and insurance, meant miners to be aware and struggle with any means to gain their rights to provide mouthwash and livelihood to their families.
So it was precisely this moment where the miners began to organize, raising their councils in secret, because no such gatherings were allowed. Given the conditions, their revolt grew so much that they decided to strike. Extreme measures were taken by executives, fining them until they were dismissed, thus increasing their dissatisfaction.
On 8 August, 80 years ago, miners blocked the offices of the enterprise directorate, where they forced the entrepreneurs to take into consideration their requests. Miners had unanimously stated that if the upcoming response did not solve the problems, the work would not start in the mines.
Even though the gendarmerie intervened to stop the strike, he could not beat them, because those men had bound the trust until the end. The strike not only was not stopped, but continued to the end, where by looking at their center and their insistence, the owners had nothing else but to begin to take on the demands and problems raised by the miners.
Today, I would like to emphasize that, although many years have passed, we continue to have the same problems. We are still struggling for safe and better working conditions in our mines, we continue to struggle for more decent wages coping with lifestyles, and what is unfortunate is that we continue and still have "exploits" and not leaders at the top.
Once again, I would like to emphasize that we must proudly remind those men of faith who want to change the concept of "worker" and continue to look for and fight with dignity for the rights of our working class because that is exactly what class, which builds the future of each nation.
Trade union movement in Albania, in the mining sector, recognizes big wins. Here I want to bring in memories and legendary greeks of Bulqize in 2011, which forgave those men, descendants of the legendary Rubik's mighty, successfully completed, where better working conditions and higher salaries were achieved.
But we as Confederates and Trade Unions do not step there. We continue and will continue to be in the protection of the rights of our members, and not only.
As you may know, we are now very close to adopting the "Miner Status" as well as the "Status of Petroleum" status to pass for approval and to be implemented as soon as possible. We have organized protests all over Albania, and we will continue to protest until the adoption and implementation of the Status.
FSPISH will always be in the forefront of the working class, to fight with them in the protection of their rights and freedoms.
So, thanking you for the attention, I have nothing to ask you again for this very important initiative in memory of the first founders of the Albanian Syndication Movement.
Thank you!